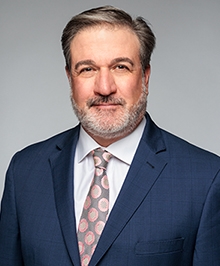 PRACTICES
Family Law
Litigation
EDUCATION
Doctor of Jurisprudence, South Texas College of Law, 1995
Bachelor of Arts, Government, The University of Texas at Austin, 1991
LICENSED

COURT ADMISSIONS
Texas State Courts
United States District Court for the Northern District of Texas
United States District Court for the Southern District of Texas
United States District Court for the Eastern District of Texas
United States District Court for the Western District of Texas
United States Court of Appeals for the Fifth Circuit
C. Wilson Shirley
Partner, Austin
CONTACT INFORMATION

V-Card
Mr. Shirley is a founding partner of Savrick, Schumann, Johnson, McGarr, Kaminski & Shirley, L.L.P.
Wilson joined the firm as a partner just months after it was formed in 2001, changing the name to Savrick, Schumann, Johnson, McGarr, Kaminski & Shirley, LLP. For well over 25 years, Wilson has litigated thousands of complex disputes involving family law — including divorce, child support and custody, property division, modifications, and spousal support — along with contentious construction, real estate and product liability cases. His litigation experience includes representing clients in state and federal courts at the trial and appellate level, including oral argument before the Texas Supreme Court.
Whether the issue is a small property dispute or a multi-party, multi-million-dollar case, Wilson is dedicated to achieving the best outcome for each of his clients. Wilson knows that extensive litigation may not always be the most efficient or effective path to achieve his clients' goals, and he has substantial experience in resolving cases through mediation and other creative settlement opportunities. Focused, tough and tenacious, Wilson is a great adversary both inside and outside of the courtroom.
Professional & Community Activities
State Bar of Texas
Austin Bar Association
Bar Association of the Fifth Federal Circuit
Family Law Section of the State Bar of Texas
Founding Fellow of Travis County Bar Association
Life Fellow, Texas Bar Foundation
Speeches and Publications
"Litigation Concepts for Homeowner and Condominium Owner Associations: Practical Considerations," Grocery Manufacturers Association & Food Product Association's 2007 Consumer Complaint Conference, April 11, 2007
"Privileges in Claim Investigation and Insurance Litigation," 1999
"Products Liability,", 1999
"Consultant Liability for Year 2000 Problems – A Professional By Any Other Name", 1999
"When (and When Not) to File a Motion for Summary Judgment," 1997
Family and Hobbies
Wilson and his beautiful and patient wife have been married for over 27 years. They have 2 beautiful daughters who attended college and post-graduate studies at the University of Texas, Texas A&M University, and Texas Tech University. Maintaining control over the television remote on Saturdays during the fall is impossible.
On most weekends, Wilson can be found with his family and friends fishing and enjoying the coast at their home in Rockport, or chasing quail in West Texas with his kennel of bird dogs. The most frequent statement he hears on the weekends is "no, you are not getting another dog!"
Wilson and his older daughter spent well over a decade competing on their quarter horses in team penning and ranch sorting events throughout Texas, Oklahoma, Louisiana and Mississippi. His older daughter went on to compete on the Texas A&M Rodeo Team and the Texas A&M Ranch Horse Team. This experience owning, hauling, training, and competing with horses gives Wilson a unique skill set that allows him to better represent clients in equine related matters.